Dear Fellow Precision Agriculturist,
POSTER DEADLINE APPROACHING
The deadline for abstracts submission is the 1st May. We invite you to submit your posters through our dedicated email adress : poster-ecpa2019@agrotic.org. All authors will have their abstracts re-viewed. All poster abstracts will be published in a digital "Book of poster abstracts" with its corres-ponding ISBN. Poster abstract instructions are published at the ECPA2019 webpage: http://ecpa2019.agrotic.org/posters/
CLOSE EARLY REGISTRATION
We are pleased to confirm that early registration and payment for conference attendance are still open. Please go to the website and read the different offers under the menu option 'Register..'. If you register (and pay) by April 15th 2019 ("Early" registration) you will save money. Notice that there are different registration options, please choose the appropriate one. All informations: http://ecpa2019.agrotic.org/shop/
ACCOMMODATION
To help you with the hotel reservations, you can find the list of hotels with information and rates in the above mentioned web page. The proposed list of hotels is not exhaustive, we cannot guarantee that this will be the cheapest offer. We invite you to book your accommodation very early because Mont-pellier is a very popular city in summer and the hotels are quickly full.  Accomodation : http://ecpa2019.agrotic.org/accomodation/
TRAVEL OPPORTUNITIES
The Organizing Committee has registered ECPA on AIR FRANCE KLM Global Meetings & Events. This registration provide attractive discounts, up to -15%, on a wide range of public fares on all AIR FRANCE, KLM and their code-shared flights worldwide for conference participants. There is also faci-litations for small trip in France.
More information : http://ecpa2019.agrotic.org/how-to-get-to-montpellier/
Have a good day and see you soon!
The organizing committee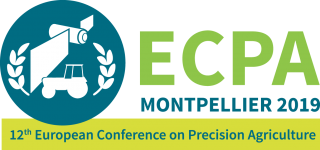 8-11 July 2019
Montpellier, FRANCE
http://ecpa2019.agrotic.org
#ECPA 2019