Dear Fellow Precision Agriculturist,
ABSTRACT DEADLINE APPROACHING
The deadline for abstracts submission is only 3 weeks away. This only requires a brief outline of your proposed paper (and presentation) but is important for the Organising Committee to plan for the full paper submissions.
Please note that abstracts should have between 2 000 and 2 500 characters (including spaces) and include relevant scientific information (materials and methods, results and discussion, and conclusions). That is very important because it is the only information that we will have to decide on the acceptance of your communication.
Full details on abstract submission are available on the website (and earlier newsletters). Please don't delay.
In order to guarantee the academic quality of the proceedings, a scientific committee is being formed for the peer reviewing of oral communications. This committee is chaired by Dr. John Stafford (co-editor of the scientific journal Precision Agriculture) as the Editor of the 12th ECPA proceedings.
Poster communications will follow a different process and will be reviewed by the Organising Committee. Poster abstract submission is also now open and will remain so until May next year.
GALA DINNER
We are very happy to announce that the venue for the Gala dinner is now booked. This is a rather exceptional vineyard located 15 minutes from Montpellier. The vineyards (domaine des Moures) offers an extraordinary view of the coastal lagoons and the Mediterranean Sea. It will be an opportunity to taste local products (including wines and cheeses) while enjoying an unforgettable panoramic view at nightfall.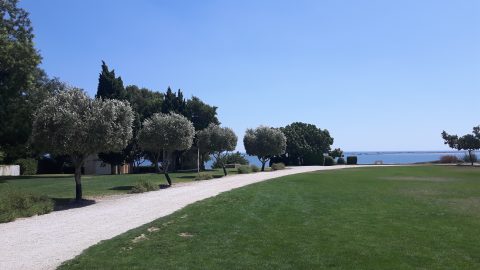 Have a good summer and see you soon!
The organizing committeebet