Dear Fellow Precision Agriculturist,
CURRENT RECORD OF REGISTRATIONS
We are pleased to see the number of participants increasing day by day. We have established a current state of registrations by country in order to highlight the diversity of attendees at this congress. Here is the link to be consulted: https://umap.openstreetmap.fr/fr/map/country-ecpa2019_335938
REGISTRATION
Please note that the maximum number of registrations permitted in the conference centre has almost been reached. We invite you to register as soon as possible if you want to participate in ECPA 2019 Montpellier. Please go to the website and read the different offers under the menu option 'Register..'. All informations: http://ecpa2019.agrotic.org/shop/
SESSION SCHEDULE
We would also llike to inform you that the program of the sessions is available on line. It is available directly in the «Conference information – ECPA TIMETABLE» section. The detailed program will very soon be available on the website: http://ecpa2019.agrotic.org/ecpa-timetable
SIDE-EVENTS
ECPA will host two public side-events subject to registration:
Training Workshop on Google Earth Engine : ECPA 2019 will conduct a two
hour training workshop on the Google Earth Engine (GEE) platform as a parallel session during the conference. All conference participants who are interested in Hands on Training on Google Earth Engine are cordially invited to the session. More information on this page: http://ecpa2019.agrotic.org/training-workshop-on-google-earth-engine/
Btofield 2019 are qualified BtoB (Business to Business) organisers that facilitate meetings to connect public and private actors from agricultural and digital industries, international experts, innovation and business development partners and build projects in response to your expectations. More information on this page : http://ecpa2019.agrotic.org/btofield-2019/
Have a good day and see you soon!
The organizing committee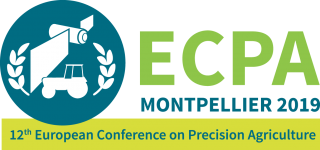 8-11 July 2019
Montpellier, FRANCE
http://ecpa2019.agrotic.org
#ECPA 2019